"Pretty, gorgeous, beautiful, cute, lovely and wow", these are some of the compliments one gets used to hear after she gets herself the acrylic nails. Did you always wonder how that girl next to your door got such awesome nails?
This is the right place which will help you get the stunning and perfect pretty nails  to make your friend ask you the same question you wanted to. We have covered every aspect you need to know to build these kissable nails on your own.
What are Acrylic Nails ?
These are often called artificial or fake nails which are applied on your natural nails as enhancement. They do not replace your natural nail in any manner which is a common myth.
These are usually made using plastic and acrylic is used to give it a good design and shape.
Mainly 2 types of acrylic nails exist in the market these days  –

TIPS (Overlay Technique)
FORMS (Extension Technique)
Which type of Acrylic Nails are better ?
That depends upon personal taste and preferences but following are major pros and cons for tips vs sculptured nails.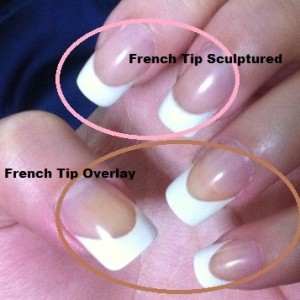 TIPS
These are the artificial plastic tips available in different sizes, colors, shapes and designs which can be attached to your natural nail using glue. Thus you get long and custom shaped nails on which acrylic or gel or your preferred product of choice can be applied and you get beautiful nails.
Pros
Easily available in countless colors and shapes.
Provide strength to your natural nail while it grows.
Use tips in different colors and create stunning art effects.
Use your creativity to give your nails complete distinct look.
Easily Removable.
Different shapes & Curves = More opportunities to display your skills.
Hurts less if tip gets peeled off as nail remains safe.
Cons
Different C curves of your natural nail and tip may hurt your nail.
Improper shape match pinches you and may uproot the tip off your nail.
Vibration on natural nail if tip wasn't glued perfectly
Less stronger than sculpted ones.
More complex to do it yourself.
May look bad if your nails turn yellow as the color on tip and your natural nail will differ if you used clear acrylics.
FORM (SCULPTURED NAILS)
A temporary structure called form is used and is placed under the natural nail in this technique. Then gel or acrylic is applied over it and is cut to the desired shape and design as needed. Thereafter the form is removed. Result: You get very refined and natural looking pretty nails.
Pros
Takes lesser time and easier to do.
Really helpful for those with abnormal nail patterns or flat types.
Less harmful for nail biters.
Provides better consistency and uniform look.
Better durability than tips.
Considered cost effective and time efficient.
More natural looking (no plastic material feel)
Traditional technique so preferred by salon experts.
Cons
Lesser scope to show your design skills.
Fewer options for shapes and colors.
Very painful if you damage the extension (for example, getting your nail trapped in a car door) as it will cause whole of the nail plate to get peeled (not just the tip).
Difficult to do it yourself especially if there isn't free edge to place the form.
Built from scratch so you will need an expert guidance.
Still confused, whether Tips or Sculptured ?
Here's the short guide to decide.
You want to have different designs and keep changing your acrylic nails look every few weeks. Go For TIPS.

You want durable, more natural and healthy but fancy acrylic nails. Go for SCULPTURED.
Last piece of advice:
Always consult once with a nails salon expert before going with any long term option.
For short term, Tips are always handy and very beautiful.
Acrylic Nail Designs 2016
Find the top 20 best acrylic nail designs and ideas for 2015. These have been hand picked by the review team for their stunning looks. Give yourself the perfect looks with these designs this year. Acrylic nails are the best artificial nails you can wear to enhance the beauty of your hands.
1. Blue Black & Cream Random Patterned
It uses a pale blue and cream color base with random designs using black paint. Your all 5 nails will get different design and pattern truly making it the most distinct and appealing acrylic nail design for 2015.
2. Glossy Black & Silver Sparkle
Do you not want to say just wow looking this fabulous design? The top tips have been covered with sparkle silver paint and the rest of the nail with glossy black. Probably shellac has been used to bring this premium finish to the design.
3. Pointy Stilettos with Pink Base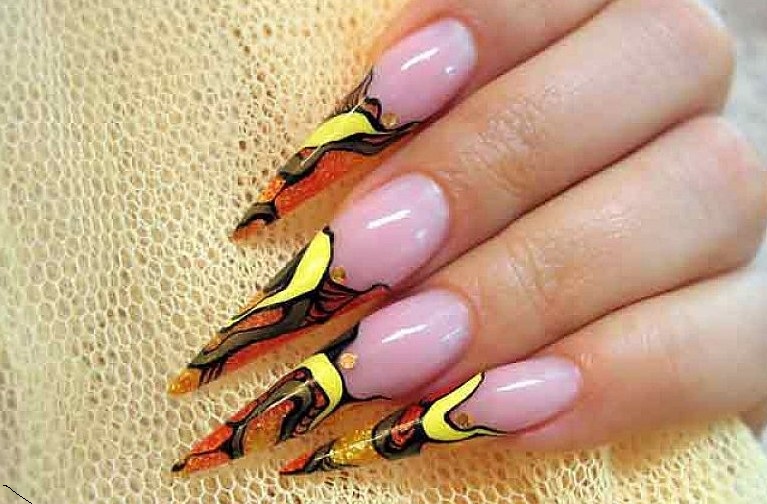 I know we all love stilettos but maintaining them is such a pain. However the beauty of these pointy nails may make you go through all the trouble to have the most stunning look in the town. Do take care of them though as they are one of the weakest acrylic nails. This design uses pink base with a patterned top using orange, black and yellow paint.
4. Purple and Black Sparkles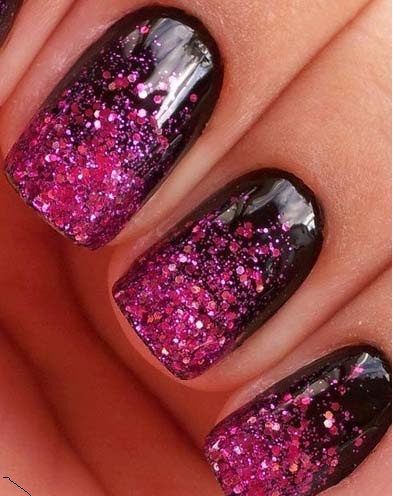 Probably made using the famous china glaze product. This uses a black glossy base and purple shade sparkling design on the top. Such a lovely combination for a perfect party wear look. This is one of my favorite designs.
5. Strawberry White Ribbon Design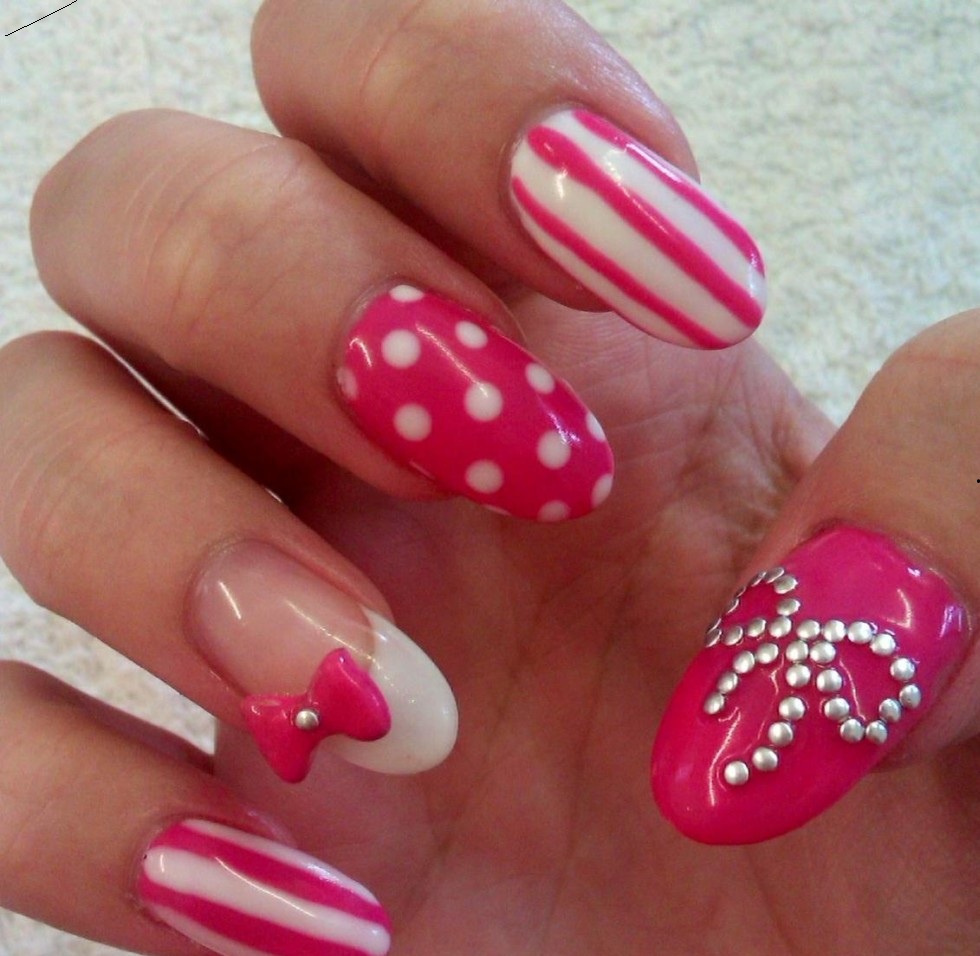 I wanna bite on them, don't you? Just looks like you got the tasty strawberry cake on your fingers. One looks a cookie and other has got the ribbon while thumb is given extra ordinary look using the silver rhinestones. A fairy tale, isn't it?
6. Simple Strong & Elegant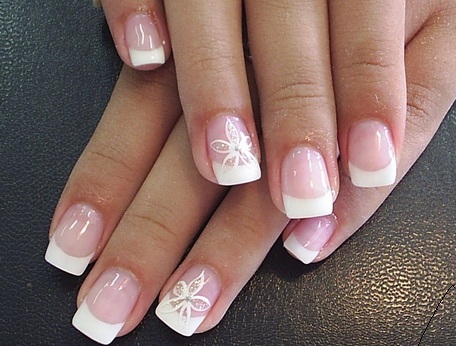 If you don't like those glossy and sparkle designs but want something simple, innocent and elegant look for the nails which have great strength as well, then look no further as its the perfect design made especially for you. The base is kept natural and off white shade is used to make simple patterns randomly.
7. Blue Glowing Eyes
These are really special nails as they don't only take the looks of others but respond them with a much better glare back to them. These blue eyes on the nails look spectacular with red and blue polka style dots. White base looks perfect for this.
8. Black Halloween Style Design with Rhinestones
Black base with premium gloss finish, most likely the work done using shellac which is my favorite brand. A skull design on only one finger and some rhinestones on other hand's finger while all the remaining are kept plain. The length is kept short so it will be easy to maintain.
9. Natural Base & Multicolored Design
This one is neither simple nor too hurting to my eyes. Multicolored pattern has been created with same design on all the nails while the base is kept natural. It looks really promising. You may want to try this for sure.
10. Black & White Dotted Style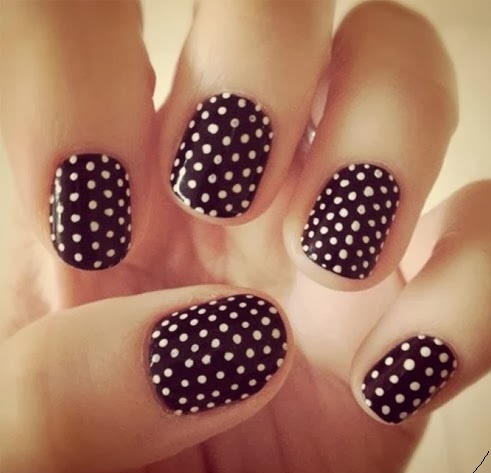 These look like they are not even the acrylic nails but they actually are. Black and white color has been used to create the dotted style design which i really liked. The length is kept short and it looks like no fake nails have been used at all. A great look for daily wear.
These were the top 10 ideas for the Acrylic Nail Designs 2015. You can find many others in the designs section of this website.
Great, I want them but wait any health issues ?
So when you have decided to go for these pretty acrylic nails, another thing haunting you is the possible side effects on your fingers or natural nails.
As expected, yes and no (I wish life was so simple not to have any cons).
The acrylic or artificial nails do more benefit than any harm to your health actually. How? 
Really a great option to get rid of nail biting habit.
Very helpful to hide your yellow nails and visible breakages.
You nails don't grow naturally or too slow? Artificial nails are your savior.
Avoid splitting of your nails.
Protective cover to your precious natural nail bed.
Yes i hate to write but there are some adverse effects too: 
The fixing job wasn't done properly and as a result it will damage your nail bed.
May restrict the natural nail growth if wasn't done properly.
Poor maintenance and cleaning may cause infection as harmful bacteria and fungus will grow between the artificial nail and the natural bed.
VERY painful (mainly in sculptured nails technique) if your nail gets peeled off accidentally.  You will see your natural nail too coming off your skin. Yes that hurts a lot!
Does it hurt to get Acrylic Nails done?
You can expect very minor pain when you do it. Few normal pinches and little pain is always there in both techniques. But there isn't going to be any amount of pain that you regret why you had the acrylics done at all.
It may happen that your nails start hurting badly that you are not even able to write after you get the acrylic nails. That happens because the job wasn't done correctly. The tips or sculpturing process was not done precisely that is why it is hurting. In this case you would want to consult with your nails salon expert to look at the default she made.
Conclusion: Its absolutely painless and there is nothing to worry about only if the procedure was applied correctly. Do not rush through please.
Where do I buy Acrylic Nail supplies?
You can buy from the local stores, Walmart, eBay or other online sites. But from my experience, the best site for getting all your nail arts, polish, tips, kits and everything at the best prices, there is only one best site and that's  amazon. You can find the best genuine nail supplies on amazon.
Click on below image to go the amazon Nail makeup store to get the best for you.