PART 1 : Buy Acrylic Nails Supplies
This is not just a quick tutorial but a very comprehensive detailed step by step guide for how to do acrylic nails yourself at home.
We will cover every tiny detail you need to know to do your own acrylic nails without the need of any professional guiding you. After you finish going through, you will find yourself having the same knowledge as an expert and may even want to offer the same service to your friends. No i am not joking, I mean what i just said!
This guide will be divided into different parts. First we need to collect all the supplies required to do acrylic nails at home.
OPTION 1 : Acrylic Nails Starter Kit (yes Optional

not recommended

)
This is the best kit you can buy if you want to. Look for no other.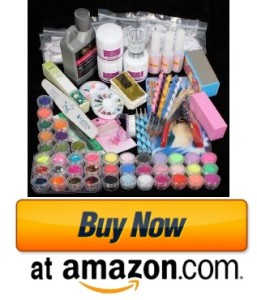 Why not recommended? It will be a good bargain than buying all supplies separately. So only if you are low on budget then I would recommend going for starter kit but please notice that the quality of the products is not very good in these starter kits.
If you do not want to compromise with quality, please stay away from the starter kits and instead spend some more money to buy the best quality acrylics nails supplies separately. In the long run, they will be much better, healthy and also cheaper.
I have done a deep research to find the best nail supplies you can buy without giving a second thought. My recommendations are backed with hundreds of reviews by happy customers and these are the best brands you can get at fair pricing.
Here goes the complete list of all supplies you need before we get started:
RECOMMENDED BEST ACRYLIC NAILS SUPPLIES
Those are all the supplies you are going to need to do the acrylic nails at home yourself. You can buy them at your local store also but i have hand picked the best and tested supplies which always work up to expectations. If you buy these, you won't face any compatibility issues hopefully.
Let's move on to the next part of this tutorial "how to do acrylic nails at home", click below: