As promised, here is the next detailed guide on how to take off your acrylic nails without acetone using the dental floss.
Before we continue, let me disclose few facts about this method.
This is a very easy and quickest method to get your acrylic nails off your natural nail.
It involves almost zero cost as there are hardly any special supplies required.
It is

not the recommended

method too.

It involves a lot of risk to your natural nail due to potential breakage.
If done very forcefully, may cause

bleeding

and extensive damage to your nail bed.

This technique is recommended only in 2 situations:

You don't have more than

5 minutes

to spend on taking care of your nails.
You don't want to spend a few more bucks to remove the fake nails.
Recommended Supplies for this Method
1. Dental Floss
2. Cuticle stick
3. Nail Oil
Step by step guide to take off acrylic nails using dental floss
STEP 1: Find a partner
Yes you will need a partner who can help you to take off the nails as doing it by yourself is not possible.
STEP 2: Using cuticle stick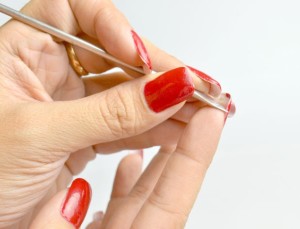 Make a slight cut or space between your natural nail bed and the acrylic nail with the help of a cuticle stick.
This must be done by your partner with extreme care such that your finger is not wounded by the floss.
Once the space is available, then insert the floss into it.
Its recommended to use at least 12 -15 inches of dental floss for the purpose.
Don't use thread , it may damage your nail a lot.
STEP 3: Pull it up
Now your partner should start moving the floss back and forth but not too fast and keep moving deeper into the gap we created earlier.
Now keep repeating the motion and applying pressure towards upward such that fake nail starts moving along towards the partner.
Finally, when the nail has come sufficiently upward, gently pull it off your natural nail.
That's it. Throw it away.
STEP 4: Filing & Moisturizing
Now do some pretty good filing job as your nails might have got a bit torn during the process.
Clip the nails if required as they might have grown over the period.
Apply some cuticle oil on your natural nail to nourish it (yes it got no good air for long)
Wash your hands with plenty of water and soap.
Finally, apply a good moisturizer on your hands.
That's it. Was easy? 🙂
Though i personally do not recommend this method but still it is always helpful during rush hours.
VIDEO HELP
You can watch a girl using the same method by herself. Yes that looks painful!! But you can get some idea how this works.