This is one of the most common yet surprising question from many readers, if they can paint over acrylic nails?
If it wasn't fine to paint over the acrylic nails, then what's the point in getting them at first.
I am sure that you will not apply acrylic just to shield your natural nails. You would definitely want to paint them and show off charming nail art designs in vibrating colors, Right?
It is perfectly safe and almost necessary to paint your acrylic nails, if you got them. The procedure is slightly different from applying polish over regular nails. You have to stay mindful of few things and ensure acrylic friendly material is used. Given that, painting your acrylics is so easy and fun that you would love to change the colors and designs every day.
Below is a quick guide to paint acrylic nails like a true professional along with our favorite supplies compatible with acrylic nails, so you cannot go wrong.
Step by Step guide to Paint your Acrylic Nails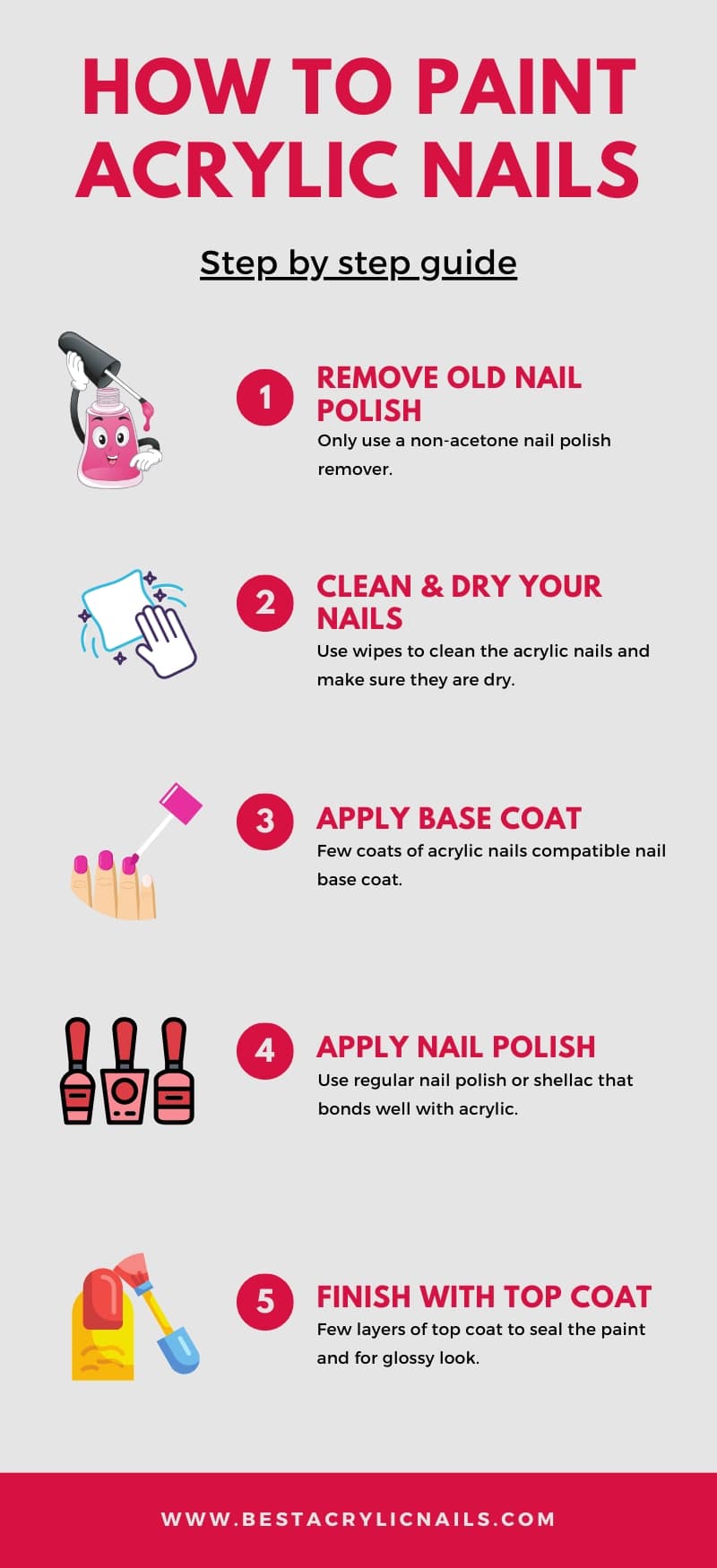 1. Remove Old Nail Paint
Before you start painting your acrylic nails, you must completely remove the old nail polish. There are no exceptions to this. Even if the old nail paint has naturally worn out, then also you need to remove any leftovers properly with a nail polish remover.
To wipe off the old paint off your acrylic nails, it is necessary that you use an Acetone FREE Nail Polish remover. The reason why you cannot use a regular nail polish remover (most likely containing acetone) is that the acrylic will dissolve and start coming off along with nail polish.
You typically use acetone-based remover to remove acrylic, but not when you want to take off just the nail paint over acrylic nails. So, just make sure that your nail polish remover is free from acetone or you would damage the acrylic base.
OPI Acetone Free Nail Polish Remover (works perfectly on acrylic nails)
This is a pretty good product. It is non toxic, Aloe Vera based and has moisturizing properties, which makes it perfect for removing nail polish from acrylic nails.
2. Clean & Dry Your Nails
When you have wiped off the nail polish completely (make sure there are no leftovers), clean your hands with wipes (such as baby wipes). Do not use harsh chemicals or other stuff to clean the acrylic base as you don't know what may cause an unwanted reaction. Alternatively, you can also wash your hands and soak them dry but do not leave the acrylic nails in water for a long time.
While this only appears to be a hygienic precaution, wiping and drying the acrylic is critical as moisture left between acrylic and nail paint could lead to infection later.
3. Apply the Base Coat Over Acrylics
Here, the main procedure of painting your acrylics initiates. First, apply one or if needed a couple coats of base coat. Since, base coat would form direct contact with acrylic, it is better to use a base coat suitable for use with acrylic nails.
While you may not be regularly in habit of applying a base coat, I would strong;ly suggest that you do it while working with acrylic. This will ensure that your acrylic nails do not stain due to direct application of nail paint over them. Base coat highly improves the life of your acrylic nails and the nail paint as well.
Seche Clear Base Coat (recommended for acrylic nails)
This base coat is suitable for use with both acrylic and natural nails. Having instant drying properties, this is extremely use to use.
4. Apply Nail Polish
Check and re-check that the base coat has dried and not coming through. Now, apply two to three coats of polish on the acrylic nails. Before you apply second coat, make sure the first coat is dry and all settled.
Bring all your nail art talent here and choose your favorite colors to paint the acrylics. Be creative and make those eye-catchy designs or if you prefer, just keep them simple and elegant. There is nothing extra-ordinary you need to do about acrylic nails. Just play with them like your natural nails.
You may use any regular nail paint or premium products like Shellac. Generally, gel polish should be avoided on acrylic nails. Check out few suggested options of nail polish that work flawlessly with acrylic and last really long.
5. Finish with a Top Coat
Finally apply single or couple (if you prefer) layers of top coat on the nail polish. Make sure the nail polish has completely dried before you apply the top coat or its going to be more messy.
OPI Nail Polish Top Coat (for perfect finish on acrylic nails)
The top coat will not only add shine to the nail, but also helps in improving the life of nail paint and prevent your acrylics from being chipped.
TAKE CARE:
If you want, you may alternatively use a UV topcoat but I do not recommend it as using UV on acrylic nails should generally be avoided. You may find it more appealing but UV coat often tends to chip the acrylics.
Guide on Best Material to Paint Acrylic Nails at Home
It is important to choose the right tools and material when you are working with acrylic nails. There are certain products which are meant only for natural nails and thus not compatible with acrylic nails or vice versa. Below is a brief guide to help you choose the best products along with few recommendations.
1. Acrylic Nail Polish Remover
Acrylic powder and monomer used for making acrylic nails contain chemicals. Hence, you should use any regular nail polish remover or chemical to take off the polish from acrylic nails. Using normal nail polish remover may not only damage the acrylic base but also create possibility of contamination.
There are special nail removers made for acrylics and similar substances used for fake nails and extensions. Make sure that you carefully select a compatible remover.
How to choose the best nail polish remover suitable for acrylic nails?
Acetone-free nail polish remover – that's what you are looking for.
Please note that acetone is a volatile and flammable substance, which is used to take off the acrylic nails by dissolving them. If you don't want to dissolve the acrylic nail (fake nail) but only the polish over it, then obviously you cannot apply something which has acetone. However, most of the ordinary nail polish removers would contain acetone and thus you need to get your hands on an acetone free nail polish remover.
The good news is that there are also plenty of acetone free nail polish removers. These are in fact gaining popularity as they work effectively and are much safer than other harsh chemical based removers. You can find some good options that also contain natural substances and moisturizing agents instead of toxic material for scent.
Below are the best ones we would recommend:
(a) OPI Acetone Free Nail Polish Remover
Based on moisturizing Aloe Vera formula instead of drying and harmful acetone
One of the fastest removing formula so no need to rub the nails for an hour
Works both on natural and artificial nails so you will not need separate products for acrylic and non-acrylic requirements
Pleasant fragrance with moisturizing properties for cuticles (should not cause white dots as other removers normally do)
Can remove lacquer from 10 nails in just 2 pads
OPI is one of the best brands in nail care products
(b) Mineral Fusion Nail Polish Remover

Gentle formula with no acetone and easily removes the toughest paints
Works on shellac polish, glitter nails and even gel polish without drying them
Helps in extending color life by cleaning the nail surface
Cruelty free products (a good choice for vegans)
Long lasting and free of chemicals and toxic scents
(c) Karma Organic Beauty Nail Polish Remover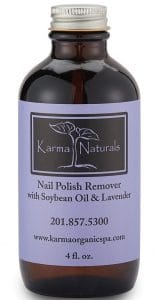 100% toxic free, gentle and yet effective solution (does not dry your nails)
Soy based with lavender essential oil and vitamin enrichments for healthy nails
Pleasant lavender scented leaves soothing aroma
Marketed as vegan and cruelty free product with biodegradable packaging material
2. Best Base Coat for Acrylic Nails
You must have applied base coat several times on your natural nail, but do you need the same treatment for acrylic nails?
Yes! It is not an absolute necessity but highly recommended to apply base coat before you apply nail paint. This will immensely improve the quality and life of your manicure. You should apply base coat on acrylic nails for these benefits:
Once the hard acrylic is filed using a buffer, it is possible that the texture is not 100% smooth. A base coat will make up for that before the lacquer is applied.
There could be bumps and lumps on the acrylic even after buffing and this can make your nail art fall short of perfection. Base coat helps in smoothing out these gaps.
Base coat will enhance the life of extensions by preventing possible staining of the acrylic material. It acts as a shield between acrylic (made up of chemicals) and the nail paint and saves you from avoidable reactions.
It makes removing the nail paint an easier task later, especially if you wish to change the color without dissolving the acrylic.
Reduces chances of your manicure to chip.
Recommended base coats for safe and easy use with acrylic nails
(a) Seche Clear Base Coat
Best smoothening qualities and strengthens the acrylic nail
Can be used on both natural and artificial nails
Dries quickly with clear finish and ridge filling properties
100% vegan and free from sulfate/ paraben etc.
(b) Zoya Anchor Base Coat
Long lasting with a tacky finish
Highly durable and flexible base coat
Significantly enhances manicure life
Premium brand known for quality nail products and finish
Least harmful ingredients
(c) Essie First Base Coat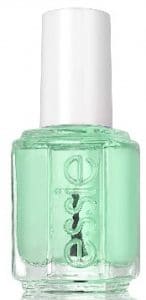 Quick drying properties and durable
Long lasting product
Professional quality product and resists chipping efficiently
Single coat is sufficient for acrylics
3. Acrylic Nail Polish
Acrylic nails open endless possibilities, as they are compatible with majority of nail art options out there. Even regular nail polish works on acrylic nails more than just fine. Because you have an extra strong layer of acrylic on your nail, you can easily go with thin lacquers as well. The strength of acrylic bonds with nail polish and makes your manicure much stronger obviating the need of using thick nail paints or other alternatives. We have discussed several options right here.
How to choose the best nail polish for acrylic nails?
(A) Regular nail polish on acrylic nails – a long lasting bond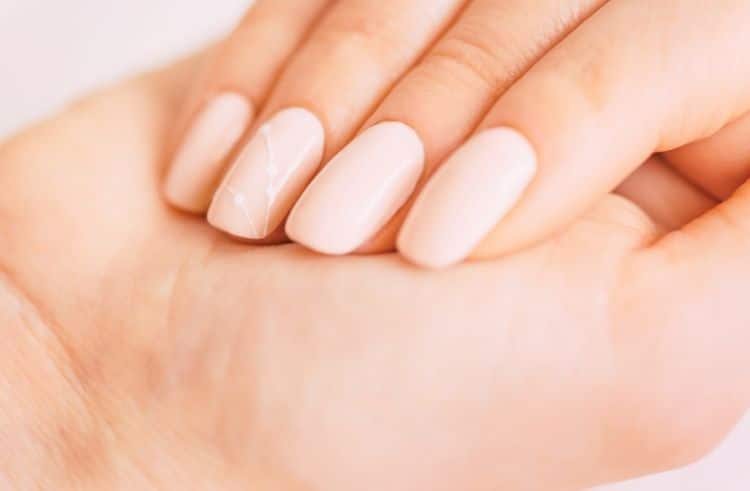 Many tend to avoid regular nail polish as they quickly wear off and you then need to re-do the polish almost every week. The story is different when you apply regular nail polish on acrylic nails.
There are enough solvents in almost every nail polish that it will cause the acrylic to melt down slightly. This allows the nail polish and acrylic to mix well which results into a very strong bond. The acrylic adds its strength to the nail paint providing it much longer life and durability. This bond otherwise cannot exist between the nail polish and your natural nail.
As a result, while nail polish would normally only stick to your nail, it forms a strong bond with acrylic base. Thus, even regular nail polish will last much longer on acrylic nails and would have higher resistance from chipping.
You may use any regular nail polish. However, if you do not want to risk the hard work and resources spent on acrylics, go with the below one.
OPI Infinite Shine
Extreme long lasting lacquer for acrylic nails (should easily last 2 to 3 weeks)
Best in the class shine for your acrylic nails
Easily removable from acrylic nails
Multiple shades and options available
(B) Shellac on acrylic nails
Before getting ahead, please note that Shellac is not a distinct nail paint but only a premium nail paint product. It is one of the most popular nail paint patented and created by Creative Nail Design (CND). Therefore, if you are thinking of applying shellac on acrylic nails, you are using a normal nail paint only with some extra features.
Shellac is a hybrid nail paint that is slightly thicker than regular nail paints. This is because Shellac is a hybrid of gel and regular nail paint. Thus, it is slightly thicker than regular nail polish providing extra strength but not as hard as gel, which you can even use for nail extension.
Normally, Shellac is advised for application on natural nails for strength, chip resistance and smooth finish. If you have acrylics, your nails already have a strong layer of protection and thus Shellac is not necessary.
Even a regular nail paint forms strong bond with acrylic and yields great results. Thus, you do not need to spend extra bucks on Shellac for that purpose. However, if you still want to try Shellac not for strength but for its premium and glossy finish, go ahead with this super strong and durable combo.
If you are not low on budget and want the best possible finish for acrylic nails, go ahead and apply Shellac nail paint. Remember, Shellac is created and marketed only by CND and no other brand. Make sure you are buying an original CND Shellac only.
Creative Nail Design Shellac
Thin yet strong Shellac bonds with hard acrylic provides sturdy nail finish
Ultra durable, long and improved life of your nail art
Super glossy finish of Shellac over nail extensions sure to grab the eyeballs around
Simply file off the Shellac and have an in-fill as usual – No need to soak off
You may not really require a base coat if you use Shellac on acrylics (makes up for extra premium payable for Shellac)
Shellac dries in no time with an overall impressive finish
(C) Acrylic nails with gel polish
Acrylic nails extensions and gel based extensions are often seen as substitutes by nail artists. But having them both at the same time, is that possible? Yes, it is possible and even common these days. The growing popularity of gel polish, thanks to its super drying properties and curing technique under UV, is leading to combinations even with acrylic nails.
While technically it is doable, should you do it? I would say yes but only if you are an expert nail artist or you get it done by the most reputed salon you know. Applying gel on acrylics can be cumbersome and should be done with utmost precision. If you don't cure the gel polish properly, it will not just lift your nail but also harm your cuticles and cause growth issues.
You may still want to try gel over acrylic nails if you are trying coloured acrylic for instance pink and white acrylic nails. This is because if you are using gel, then you can skip the buffing part and give your nail a super glossy finish. In fact, you must not buff the acrylic a lot as gel will need slightly rough surface to stick on.
With the rare combination of acrylic nails and gel polish, you may achieve unbelievable nail art life of up to 4 to 6 weeks. However, in-fills due to nail growth would certainly be required. While durability is a great advantage of acrylic + gel combo, it is also inconvenient to quickly change the colors and designs. If you love to wear different shades and want to try new nail art often, you want to stay away from applying gel polish over acrylic nails.
If you prefer a super glossy look and multi colors with acrylic nails, get yourself a gel polish and apply on acrylic nails. The cost of overall combo may be high but it makes up for extra-long lasting nail art that you get. For non-routine nail painters, it may be worth a shot. Below gel polish works good if want to try:
OPI Gel Nail Polish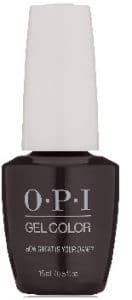 Dries fast for quick nail art session
Lasts longer and sets well when applied over acrylic nails
Up to 3 weeks of wear, shine and eye-catchy glossy finish
Unique OPI GelColour system
Premium product made by trusted nail art brand
Chip resistant color system
Huge color selection available for regular nail art lovers
Which nail polish should you go for acrylic nails?
(a) If you love to give your nails a new look frequently, use a regular nail polish on acrylic nails. It is easier to remove with a non-acetone nail polish remover for a quick makeover.
(b) If you prefer a premium product for super glossy finish, then you may go for Shellac. Though it will cost you slightly more, the elegant finish is a wonder. It also lasts pretty long and forms a strong bond with acrylic.
(c) Using gel polish with acrylics is generally not recommended unless you are a nail technician. The procedure requires utmost precision to ensure safe application and removal of gel is time-consuming process.
4. Top coat for acrylic nails – To keep them shiny
A top coat on acrylic nails is not necessary but always recommended for extra shine and protective layer. There are two kinds of top coats, one is air-dry topcoat and another gel top coats (for which you require UV curation).
Using a dry topcoat is a healthier option for acrylic nails as UV treatment has its own drawbacks. If you using air-dry top coat, make sure that the base surface is smooth or you won't get the optimal shine on your nails.
If you are using top coat (clear nail polish) directly on acrylic nails without a nail paint, then you will need to smooth out the acrylic first. Use nail buffer going up the grits to get silky and smooth acrylic nail. You may go up to 1200 grit buffer for this purpose.
However, if you are planning to apply top coat on painted acrylic nail, just go ahead and apply few coats. There is no need to buff the painted acrylic. The clear top coat will add shine and glossy finish and there is literally no down side of top coat.
You may try the following top coat(s) for the best shine:
(a) OPI Nail Polish Top Coat
Seals the colour to prevent scratches and chipping
Prevents smudges, adds beautiful shine and extends paint life
High gloss shine and non-yellowing formula
Long lasting protective layer for your nail paint or acrylic nails
(b) CND Vinylux Long Wear Top Coat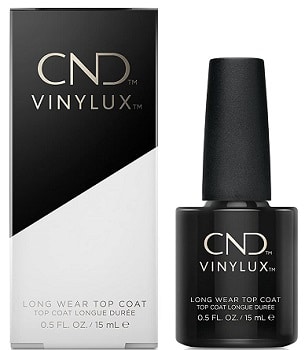 Long-lasting wear and durability with exposure to natural light over time (Pro-light technology)
Comes from CND (premium brand for nail art supplies)
Best for use on painted acrylic nails
Cellulose acetate butyrate based, so it doesn't yellow
Chip-free formula
(c) Seche Vite Dry Fast Top Nail Coat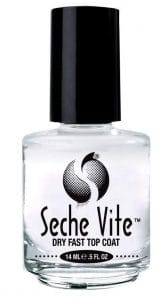 Provides great shine and glossy finish to acrylics
Ultra quick drying properties (without any UV or LEDF lightening)
Protects your nails from fading
Minimal chemicals and cruelty free product
Using Acrylic Paint for Nail Art
Can you paint your nails with acrylic paint?
Acrylic paint is popular for use by artists around the world for beautiful art and designs. If the paint in non-toxic, you may apply the acrylic paint even on your nails for endless nail art opportunities. You can create designs, scratch based art, multi-color patterns and what not. You can use acrylic paint on your natural nails or even the artificial nails made of acrylic.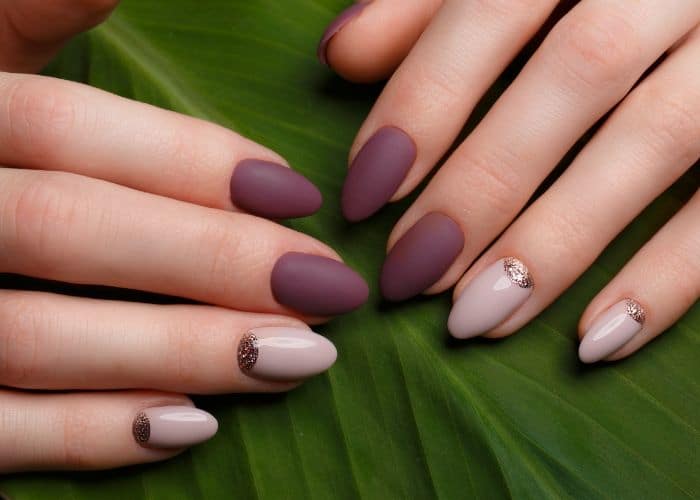 Since acrylic paint is usually water based, it may not stick around for so long as a regular nail polish. However, if you prefer to change the color every few days, acrylic paints may be your best cost friendly alternative.
Please note that acrylic paint usually sets with a matte finish and therefore you would need to seal it with clear topcoat. This will add much needed shine to vibrating acrylic paint colors and act as a protection since acrylic paint is not resistant to water and other dissolving elements like a regular nail polish is.
CAUTION:
It is an absolute necessity to use a few coats of nail base coat before you apply acrylic paint. While they are usually non-toxic, you do not want to stain your nails. It is usually safe to use acrylic paint on nails, but do not make haste in skipping the base coat, topcoat and the primer.
Is acrylic paint bad for your nails?
No, acrylic paint is generally safe to use for nail art designs and even as a top coat. However, you must use only non-toxic colors with a good base coat to avoid staining of your nails. Since acrylic paint is water based, they will easily come off if not sealed properly with a good topcoat.
Hence, apply few layers of base coat, color your nails with acrylic paint for endless design and color options, and finally apply few layers of matte or glossy finish nail topcoat to seal the paint.
NOTE:
Though acrylic paint is suitable for nail art, it should primarily be used for creative designs and patterns, which are otherwise not possible with regular nail paints. The regular nail polish is any day much better, safer and healthier option for your nails.

Acrylic paint is just a cost friendly alternative for variety of shades and endless designing options. When it comes to long term, durable and glossy finish, even a cheap regular nail polish would put the best of acrylic paint to shame.
What kind of acrylic paint to use on nails?
You may use regular acrylic paint for the nails so long they are non-toxic and recommended for nail art use by the manufacturer. Make sure that you use a sufficient quantity of protective nail base coat and then do the nail art with acrylic paint. It will dry almost instantly, so seal it with top coat to make the output water resistant and glossy.
It is common to have a white coat of acrylic nail first on your acrylic nails or natural nails. This sorts of create a canvas for the nail art and designing. White painted acrylic nails may be left as they are without further paint or design, properly sealed with a clear top coat and they look amazing.
Recommended acrylic paint for nail art purposes:
Non-toxic Acrylic Paint Set
Premium quality acrylic paint set with plenty of shades
Non-toxic lasting vibrant colors
Easily blend with different colors to produce an array of unlimited shade for you nail art project
Superb thick consistency for nail art use
How to remove acrylic paint from nails?
You can easily remove acrylic paint with a simple nail polish remover or even acetone. In most of the cases, a normal nail paint remover would do the job and there is no need to use the harsh acetone.
However, if you are using paint on acrylic base (built with monomer), make sure you use a non-acetone nail paint remover only to avoid damage to the acrylic base.
Conclusion : Paint acrylic nails the way you want!
Painting acrylic nails is fun and paves way for the most admirable results of nail art. Grab all the best supplies you need, find yourself an hour and give your nails a smart makeover. Once you get the technique right, you would want to re-do it every week but of course if your calendar permits.
Enjoy the exciting painting sessions with acrylics!
Frequently Asked Questions
Can you repaint acrylic nails?
Acrylic nails can be painted and then re-painted, as many times you want. It is easy to take off the nail paint from acrylics using a non-acetone based remover for a quick repainting session. This can be done routinely but make sure you do not damage the acrylic base.

You may even paint over already painted acrylic nails directly. However, it is always better to first remove the existing paint and then apply the fresh coat. This keeps the overall weight of acrylic on your natural nails lighter.
Can you use nail polish remover on acrylic nails?
Yes, it is perfectly fine to use nail polish removers on acrylic nails to remove the lacquer. However, make sure that you use only acetone free nail polish remover.
Will normal nail polish remover take off acrylic also if you just want to remove the paint?
Normal nail polish removers are likely to contain acetone, which dissolves acrylic. While acrylic material is tough and takes a long time to dissolve, a quick wipe with normal acetone based remover should do the work.

However, it is risky as acetone may get underneath the plastic tips (if you are using them for extensions) and quickly melt them. That will certainly damage your acrylic nails. Thus, use only acetone free nail polish removers for acrylic nails.
Can you change the color on acrylic nails after removing old nail polish?
Yes, you can easily remove the old nail polish and replace with a new color. You may keep changing designs and colors without any issues. Just make sure to get them in-filled at intervals as your nails grow.
If you have acrylics with gel polish, should you completely remove them before redesign or color change?
Not necessarily. You can use acetone free nail polish remover to remove the gel polish without damaging your acrylic nails. Do a new design and color change, as you desire. However, if gel polish was curated with UV light, it may be tougher to remove just the polish.
Can you use a regular base coat for acrylic nails?
Yes, you can use a regular base coat as well for acrylic nails. However, few brands market certain base coat products exclusively for acrylic nails. Using one of those could give you slightly better results but they may not be very useful for application on normal nails.

Try our recommended base coats and they work good for both acrylic nails and natural.
Can you do Shellac on acrylic nails?
Of course. You can use Shellac on acrylic nails to have impressive nail strength and possibly the best finish for nail extensions. If you have been trying Shellac otherwise on your nails but it does not stick for long, try it over acrylic nails once. You will love the long lasting bond.
Can you paint over acrylic gel nails?
Acrylic and gel is a rare combination and should be used only if you prefer very long lasting combo with infrequent design changes. Once gel polish is applied over acrylics and curated properly, you can apply nail paint or every other thing that you normally do with gel nails. Make sure that you are using a nail paint suitable for use over gel nails.
How to change gel nail polish on acrylic nails?
Take off the old gel nail polish using nail buffer or an electric nail drill. Once it is dusted down, finish the acrylic base with high grit buffer such as 320-grit buffer. Re-apply the gel nail polish and cure it with under UV lamp, if so required depending upon type of gel used.

The whole process would be time consuming, as you cannot simply soak the nails without damaging the acrylic base, so buffing down is the only safe option and is takes time.
How to take gel polish off acrylic nails?
If you do not want to damage the acrylic and take off the gel polish over it, then the only safe method is to buff. You cannot soak the gel as that is likely to cause damage.

Follow these easy steps to remove gel polish off acrylic nails safely:

Step 1: Since gel is quite hard, use a 100-grit file to buff most of the material quickly.

Step 2: Once you have filed it down almost to acrylic base, switch to 180-grit file to remove the remaining material.

Step 3: For eliminating left overs or scratches, use a 220-grit buffer to smooth out.

Step 4: Finally, get yourself a 320-grit buffer for finishing the acrylic base with gel polish lying down as dust.

Step 5: If you want to speed up the buffing process, use an electric nail drill or file. That should do the job pretty fast.

Recommended Electric Drill for acrylic and gel nails
Can you keep acrylic nails with clear polish or without nail polish?
Clear acrylic nails look good if you prefer to show off the acrylic natural color. Once you have applied the acrylic, smooth them out as much as possible using high grit buffers and seal with a clear polish or topcoat. You will have simple yet elegant, glossy and strong acrylic nails.

Leaving acrylic base without any nail polish i.e. even without any clear top coat is an unwise decision. Acrylic may get in contact with dis-solvent and start corroding. Thus, it is important that you apply a clear top coat on acrylic if you prefer not to apply nail polish.
NOTE:
Acrylic nails and other nail art supplies may contain chemicals. While they are generally suitable to majority, you should consult with your physician for possible allergies and any adverse impact. Be careful and stay healthy.

Above information is based on research and material available in the public domain and should not be used as expert advice.